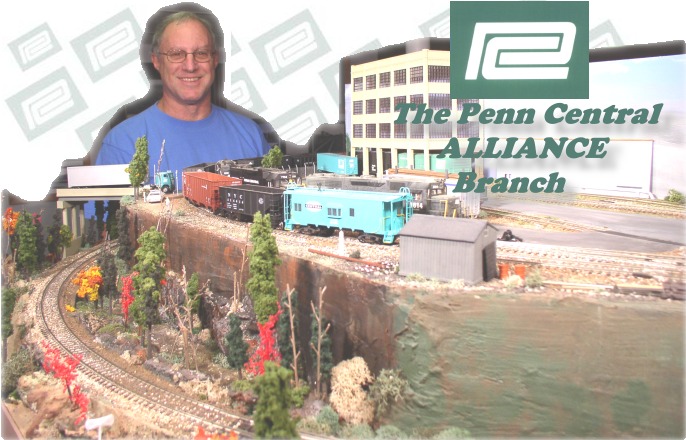 MD1, Engine 3014 West, loaded coal train from Minerva yard (MP 42.1), approaching Ravenna, Ohio, (MP 85.1) on
Number 1 main track. Train on Number 2 main track is MD2, East, bringing empty hoppers to Minerva yard.
Penn Central Alliance Branch
Valley Division
The Penn Central (PC) Alliance Branch HO scale layout places emphasis on the PC operation in the 1970's, at Minerva, Ohio, on the former New York Central System (NYCS) in southeastern Ohio.
The prototype NYCS went between Phalanx (MP 0.0, northern point) and Dillonvale, Ohio (MP 87.6, southern point). PC only operated between Newton Falls (MP 4.4) and Piney Fork (MP 82.8). Minerva yard (MP 42.1) was the originating and terminating point for trains on both the NYCS and PC.
Layout at a Glance

Name:

Penn Central Alliance Branch

Scale:

HO scale (1:87.1)

Size:

14 x 20 feet

Prototype:

PC Alliance Branch

Locale:

Southeastern Ohio

Era:

Early- mid 1970's

Layout style:

E-style, double deck

Length Main Line:

275 feet

Benchwork:

open grid

Track:

Code 83

Minimum radius:

24 inch

Maximum grade:

4 percent (grade used between levels versus helix)

Scenery:

cardboard, screen, plaster cloth,

Controls:

Digitrax Digital Control (Radio DCC)
Check out our links
(coming soon)
Note: These web pages are under construction.
Site maintained by Mel Agne