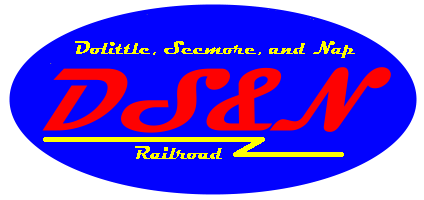 Epitaph for the DS&N
It seems sometimes that the only way that a railroad truly becomes great, is for it to end. Some railroads end in the mind of its fans, by being absorbed or merged into a larger system. Indeed, the B&O is long gone, and even CSX doesn't look much like it anymore. The towns may be the same, but the trademark color position light signals, paint schemes, towers, and assorted other items along with locomotives and rolling stock have faded into the history books, leaving only a ghost of what once was. Other railroads, like the Wellsville Addison and Galeton, end when the physical plant is completely removed, with nary a trace of its existence remaining. Only the trained eye would spot a portion of roadbed, a concrete bridge abutment, or some other element that says "Hey this is where the WAG was." And so it was in the later fashion that our beloved railroad met its end in 2015.
But before examining the withering stem of a once great hobby railroad, let us take a look at the last few years. After 2008, our sons graduated from grade school, and went off to college. This rendered the family less then it was on weekends when regular trips to Potter County could be made with a full crew. Mel and Suzi would go alone, or in some cases we could find another helper to tag along. The lack of a regular crew resulted in even less frequent visits, and so to Ed and Jeannie Pruitt, the seeds of abandonment were being sewn.
This is 2011. Matthias is in Colege, but Graham is still at home.
2012 saw us visit in force with lots of maintanance and running activities.
In October of 2012, Mel returned with his friend Chris, a bonefide Amtrak employee, to do a little winterizing and get onc last run in.
2012 would be the last operating visit to the railroad by the Agne family. A change in Mel and Suzi's employment put a premium on free time, and weekends became difficult to spend at the DS&N. Changes in Ed's health were also beginning, and so it was that Ed and Jeannie began to make plans to divest themselves of the railroad, the property, and everything in Potter County. Mel and Ed had had some differences in their views of how the railroad should be built, and run over the years. Mel felt the railroad should be like any other model railroad, and support bi-directional operation, while Ed felt the train was an amusement park ride, and should be operated as such. This difference of opinions brought about Ed's independent decision to remove several signals from the right of way that were facing "the wrong way". When Mel discovered this, there was bitter resentment that Ed was beginning to make changes and decisions that the Agne family would not support, and this worsened the situation with the lack of visitation. By 2015, Ed's health had made it apparent that Ed and Jeannie needed to get out of their investment while there was still time. Although Mel and Suzi had been promised an inheritance of the property and railroad by Ed 10 years earlier, it became evident that this promise would not be fullfilled.
It was decided by the Pruitt's that the entire railroad would be dispatched in an on-line auction. Each piece would be individually sold, and the physical plant dismantled by the purchaser of the track within 2 weeks of their winning bid. It was necessary for Mel and Suzi to return and claim tools and equipment that they legitimately owned, so that the auction could occur unimpeded. Even so, some of the items Mel had bought for the maintenance of the railroad were sold without his blessing, and a pair of freight car trucks owned by Ken Mazer were also wrongfully sold. The Agne's were also distressed to see that the mile posts had been pulled up and discarded. Mel did manage to find Milepost zero buried in the dirt, and saved it.
Let us look then at the railroad one last time, as it appeared before the auction. A year or two of neglect had resulted in a legitimate appearance of abandonment. Small trees and significant plant life had sprung up between the ties, and just as in full size railroading, the Doolittle, Seemore and Nap (which would have been re-named the Delta, Susquehanna and Northern had Mel ever come to fully possess it) was legitimately ready for the scrapper.
The railroad. Abandoned and ready for sale.
Thank you for following the journey of the DS&N. It was a 12 year love affair, that taught our sons so much of what it was to be a creator, an engineer and a hard worker. We put a lot of time, money and effort into it, and in the end, all we have to show for it is the memories. Just like a real railroad.