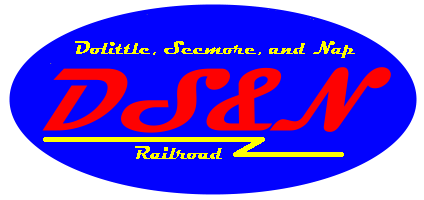 Operations Support May 28th, 29th and 30th, Memorial Day Weekend, 2005

Remembering those who served.
All gave some. Some gave all.
visit number 13 to the DS&N by Moose Valley crews proved to be very lucky indeed, as the equipment was revived from its winter furlough without difficulty, and the track was in decent shape.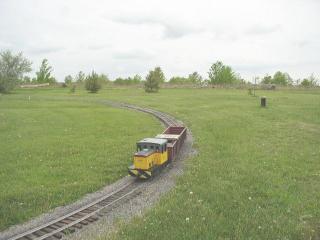 Weather for the weekend was definitely not fully cooperative, but temperatures were workable, and the rain did manage to cut us a few breaks here and there.
Due to scheduling issues, work did not begin until Saturday around noon. After an inspection train run with the 970 was operated, the most severely disturbed areas were identified and noted for immediate maintenance.
First priority was the curve between milepost 20 and 30. Settling over the winter had caused super-elevation in the wrong direction, which would have precluded the operation of any of our road locomotives. Crews set about correcting this first. The embankment wall had been leveled and staked previously, so rip rap fill was placed between the ties and roadbed to stabilize the curve. Afterwards, the track was re-ballasted, leveled and tamped.
By evening, the road locomotives were authorized to operate over the complete line, and several trains were run to see how they performed on the track as-is.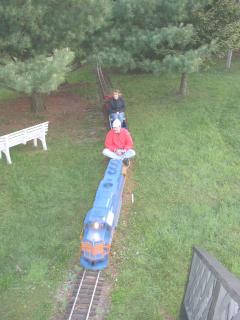 GP-50 #241 pulls a revenue train past MP 40 with engineer M. L. Agne at the controls.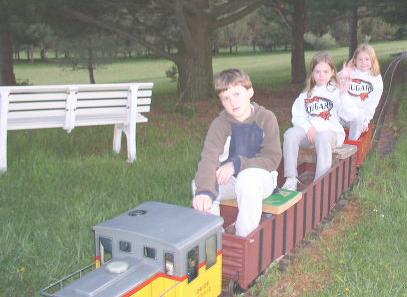 G. P. Agne brings up the second section with two revenue loads at the same location. Later the same train is at MP 50 with M. T. Agne at the throttle. We get a friendly wave from the conductor.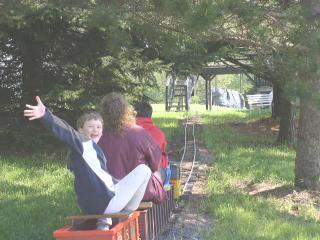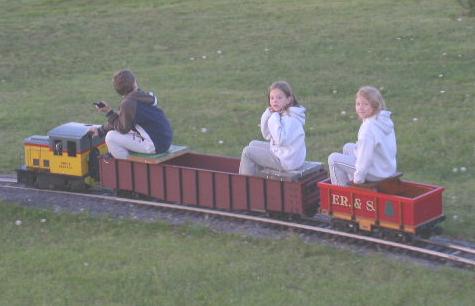 Another view of the second section.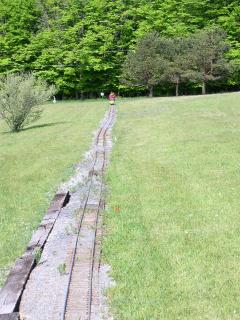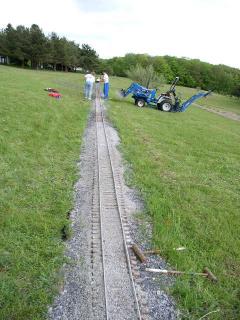 The section of track between MP 60 and 80 were identified as being the most in need of work, so a ballast crew spent most of Sunday aligning, leveling and tamping.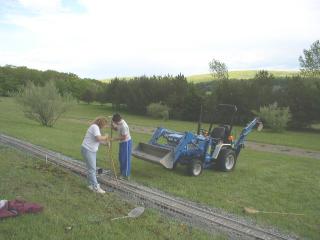 Here the track gang is at work at MP 70.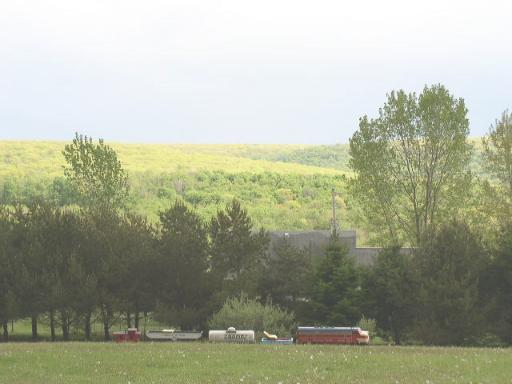 Many times during the course of the days work, the sky would darken and turn ominous, only to be highlighted by a burst of sunshine, as witnessed by extra 2200.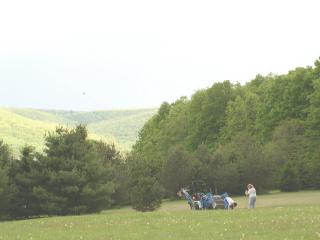 Even with the threat of rain, the track crew kept working.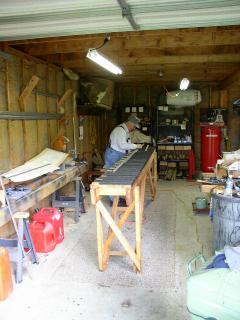 E. Pruitt constructs track in the track shop
While the track crew was out ballasting the line, the track shop was turning out completed panels and a new switch for the West Pike subdivision, which was nearing completion and connection to the mainline near MP 110.
Here we see the new switch waiting for delivery to the West Pike sub. It is currently configured as a spring switch, but this will be upgraded to an automatic switch at some future date. Installation of the switch and remaining trackage is scheduled for June, at which time all of the original track planned will be competed.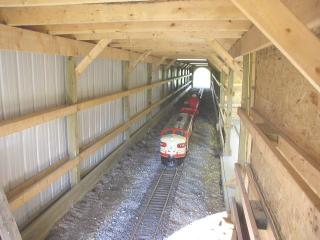 Additional plans call for the interior of the tunnel to be sheathed and painted black.
Check back again next month!