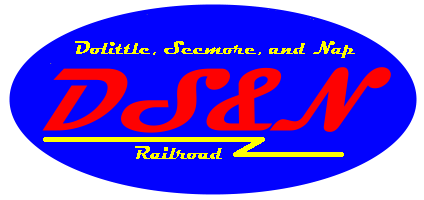 Operations Support July 23rd and 24th.
Happy Birthday Matthias!
This was the fifteenth visit to the DS&N by Moose Valley crews, and a new record for low employee turnout, and the only July work session to date. Due to various scheduling issues, this would be a father and oldest son only weekend, but that didn't prevent excellent progress from being made. Despite the extreme heat, work was focused on two particular areas.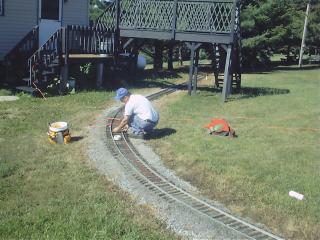 The first area of concern was the tight radius curve at MP 30. Since construction in 2002, this curve has always had a kink in it, that made it too tight. Some derailments were attributed here to lack of coupler swing caused by the tight radii. Here the track has been relocated, and you can see the original placement in the ballast. At it's apex, the curve was moved in as much as 8".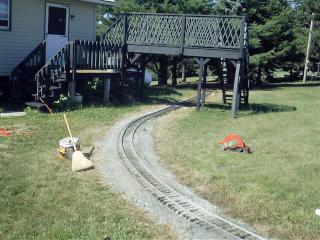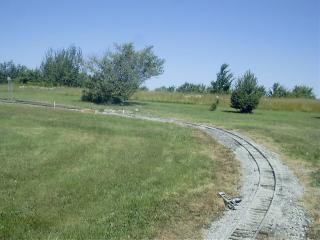 The new curve alignment was a significant improvement. Additional leveling and ballasting was performed on the rest of the curve as well. However, some things seem better left alone.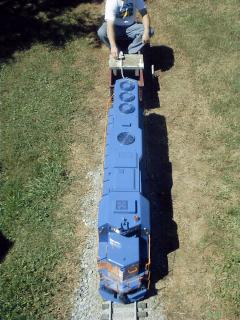 241 leads the test train past MP 40.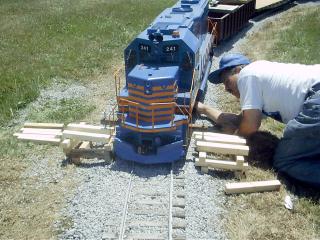 Despite best efforts, 241 has found fault with our work, and the lead truck has made its own path. With the limited crew available, a jacking system was devised to re-rail the errant engine. Special equipment was constructed and put to use. A couple of hours were lost to this endeavor, but the re-railing went smoothly and without harm to any delicate parts.

Click for a bigger picture.

The other area of focus, was the fill between MP 80 and MP 90. This area has consumed a lot of stone, and settling has been an issue. Re-leveling, ballasting and tamping finished up the day.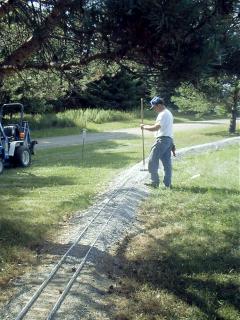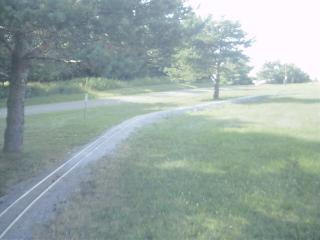 This was the last full weekend in which to prepare for the upcoming WAG Convention in Galeton on August 14th. On Sunday July 24th, locomotive 2200 was repaired (a voltage regulator was replaced to correct an electrical problem), and paired up with 2300 to pull the train which will be used for the WAG convention. 11 test trips were made without incident, and it is our hope that the track and railroad will perform as well as it did this weekend. Tune in next Month to find out!
You can join the WAG Historical Society, a cyber society which has no dues, to participate in the upcoming WAG convention.