Moose Valley RR Co.
Operations Headquarters: M. Leon Agne Engine Facility, 7021 Surrey Drive, Berkeley Spgs W.Va. (304) Ro4-1424
Bulletin #20075
March 23, 1977

TO: All Operating Employees.

DIVISION: Delta

SUBDIVISION: South Branch
GREENSPRING YARD

THE FORMER B&O GREENSPRING YARD IS NOT INCLUDED IN MOOSE VALLEY TIMETABLES. TO BETTER QUALIFY CREWS FOR OPERATION IN THIS FACILITY, THE FOLLOWING ENGINEERING DEPARTMENT SKETCH IS BEING PROVIDED UNTIL SUCH TIME THAT A NEW TIMETABLE IS ISSUED. CREWS FAMILIAR WITH THE FORMER B&O YARD OR "OLD YARD" WILL NOTE THAT THE DISTANT SOUTH YARD IS NOW IN USE BY COMPANY. SEVERAL UPGRADES HAVE BEEN IMPLEMENTED BY MOOSE VALLEY M OF W. AN ADDITIONAL SWITCH AT THE YARD LIMIT HAS BEEN INSTALLED ALLOWING DIRECT ACCESS TO THE ENGINE SERVICE TRACKS OR "PIT TRACKS" AND THE TURNTABLE. ELECTRICAL GROUND THROWS ARE LABELED WITH AN S, AND 3 DIGIT LOCK CODE. NOTE THAT THERE IS ONE CUSTOMER BEING DEVELOPED WITHIN YARD LIMITS THAT IS NOT PRESENTLY YET IN SERVICE.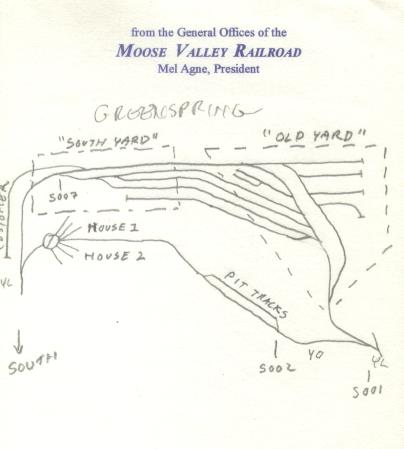 M. L. Agne – Division Superintendent