Moose Valley RR Co.
Operations Headquarters: M. Leon Agne Engine Facility, 7021 Surrey Drive, Berkeley Spgs W.Va. (304) Ro4-1424
Bulletin #20076
March 23, 1977

TO: All Operating Employees.

DIVISION: Delta

SUBDIVISION: Mainline
MAZERVILLE SPUR

TWO NEW CUSTOMERS HAVE BEEN DEVELOPED AT MAZERVILLE, AND A SERVICE TRACK INSTALLED TO MEET THEIR NEEDS. LOCATED AT MILEPOST 34.6, JUST NORTH OF THE MAZERVILLE INTERLOCKING, THE SPUR IS DEEP ENOUGH FOR APPROXIMATELY 6 CARS. ELECTRICAL GROUND THROWS HAVE BEEN INSTALLED AND S-CODE LOCKS DOCUMENTED IN THE ENGINEERING SKETCH BELOW.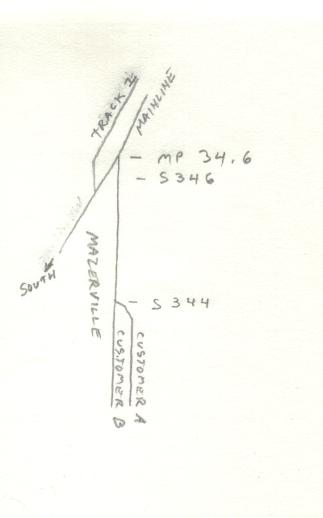 M. L. Agne – Division Superintendent