Moose Valley RR Co.
Operations Headquarters: M. Leon Agne Engine Facility, 7021 Surrey Drive, Berkeley Spgs W.Va. (304) Ro4-1424
Bulletin #20077
March 23, 1977

TO: All Operating Employees.

DIVISION: Delta

SUBDIVISION: Mainline
DRUMORE BRANCH

THREE NEW CUSTOMERS HAVE BEEN DEVELOPED ALONG A PORTION OF THE FORMERLY ABANDONED DRUMORE BRANCH. NEW TRACK HAS BEEN LAID PAST THE HELPER STATION AT NEW WINDSOR, AND A SERVICE TRACK INSTALLED TO MEET THEIR NEEDS. LOCATED AT MILEPOST 26.1 ON THE MAINLINE, THE DRUMORE BRANCH SERVES AS FIRST DISTRICT HELPER STATION, AND LOCAL TRAINS SERVICING THE BRANCH WILL NEED TO COORDINATE WITH HELPER CREWS TO MAKE SURE THEY ARE CLEAR OF THE BRANCH. CHANGES INCLUDE NEW SPURS AND ELECTRICAL GROUND THROWS HAVE BEEN INSTALLED AND S-CODE LOCKS DOCUMENTED IN THE ENGINEERING SKETCH BELOW.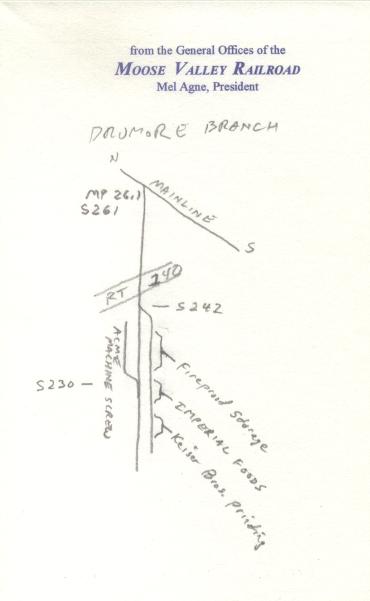 M. L. Agne – Division Superintendent