New Windsor Pennsylvania
Hot Springs Tunnel, New Windsor, Pennsylvania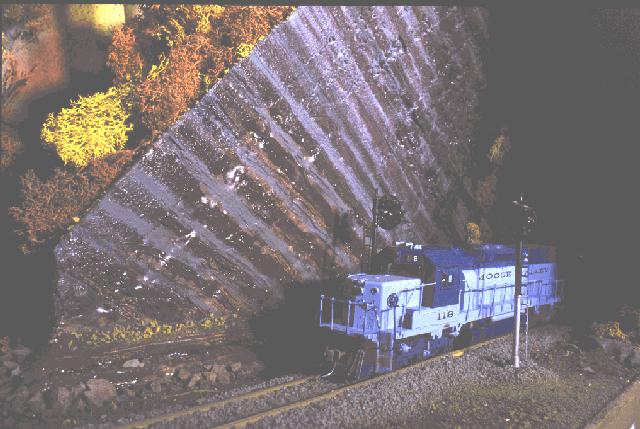 Hot Springs tunnel - Located just South of New Windsor, PA. is the second longest on the Moose Valley and on the same 2% grade as Cowan tunnel. Here at the North portal, smoke becomes a major problem as heavy coal drags fight the tug of gravity. Once units drop below 10MPH, the Smoke thickens as diesels begin to regurgitate their exhaust. For this reason, the Moose Valley is purchasing former Southern Pacific SD-40T-2's like this one, seen leading MV20-U, a unit coal train out of Weeter Mine#2 at Greenspring, WV., bound for New York Power and Light in Buffalo.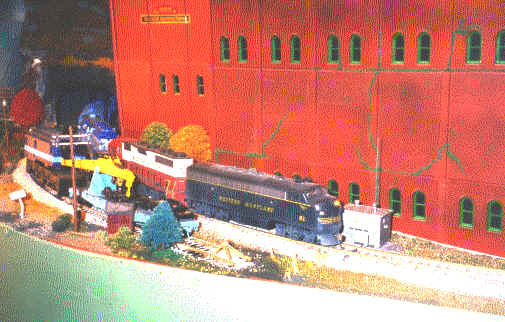 New Windsor is the location of the area's largest employer, Arrow Manufacturing. Unfortunately, the company produces products which are not hauled by the railroad. This site is the location of a Moose Valley talking defect detector, which train MV23-UE lead by WM F-7A number 61 is about to cross. Foreign road power is evident on this Moose Valley train which contains several Chessie System engines, and since MV23-UE is an empty southbound hopper train, it is unlikely that all of these units are needed, but dynamic brakes will begin whining here, as this train is now descending the New Windsor Grade. The wreck train, an always present reminder of the toll this grade sometimes takes, sits on Drumore Siding.

Here we see MV23-UE entering Hot Springs tunnel.