Operating Session April 23rd 2005
This was the third and last operating session of the 2004-2005 traditional season, and the first OS in 5 years to take place in April. Compare this OS with the last April OS.
Things ran much better this time around, but with the warmer weather approaching, crew members were scarce. Many thanks to Matt Adams, Mike Kieser, and Rick and Josh Gantz, who made a special effort to come. Even with a reduced staff, we still had a good time, and train sizes were increased slightly to compensate for the lack thereof.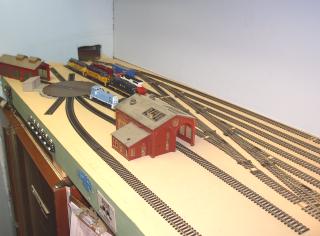 Millersburg Yard was empty at the start of this OS, except for some freshly serviced power waiting for a train to pull south. Unfortunately, they didn't leave on this shift. The real outbound action was focused on Carlisle.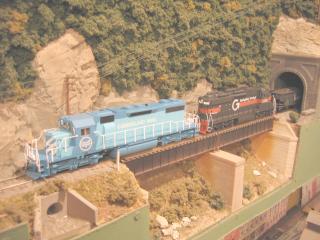 MV20-U exits Cowan tunnel. Photo by Matt Adams
The Moose Valley stables many different units from all major builders, and in a continuing effort to test and evaluate different locomotives, an SD-38-2 and SD-26 were obtained for evaluation, through AEL for testing in heavy coal drag service.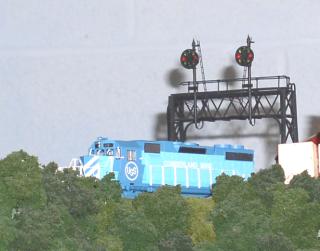 This OS got off to an interesting start with an interesting unit. US Steel's soon to be captive SD-38-2 number 1, makes a good Moose Valley imposter coming under the signal bridge at Mazerville. The trailing unit is also just as interesting. This may be one of the last runs the US Steel unit makes, as it is on it's way from EMD to an isolated coal conveyor line in western Pennsylvania.

This unusual power is pulling MV20-U to Enid, seen here at Kohl.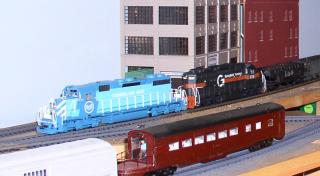 Passing the Moose Valley office car, the train has gotten the attention of the car cleaner, as he has come to the window for a look.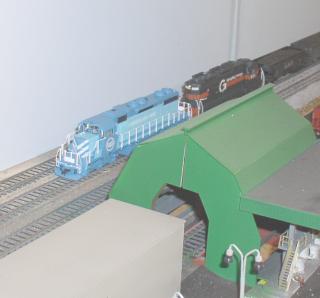 Arriving in Enid, the train is switched by the CoPo plant switcher.

Soon the train will depart with empties for Weeter Mine #2.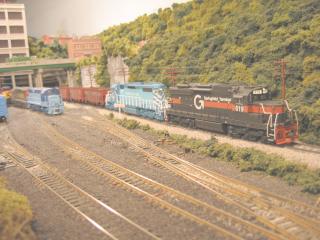 MV21-UE passing Hermann-Beers yard. Photo by Matt Adams.
Once on the road, the SD-26 is in the lead, seen here at HB.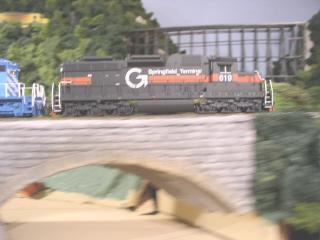 Coming over Spring Run, SD-26 619 is at speed as the lead unit on the return trip.
Meanwhile, back at Greenspring, Yardmaster R. Gantz is busy recording
and sorting inbound trains from Carlisle. AJ-1 is his next inbound.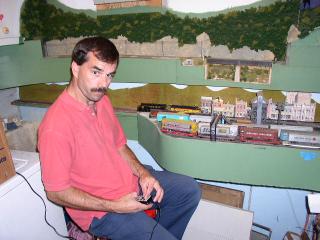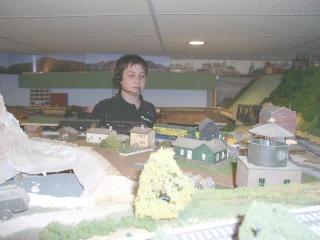 Train AJ-1 is under the control of engineer M.T. Agne,
as his train rounds Valley Loop, en route to Greenspring.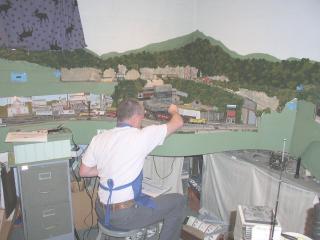 The second shift at Weeter Mine #2 is underway, and
the crew of Alco S-2 #1025 is busy switching the plant.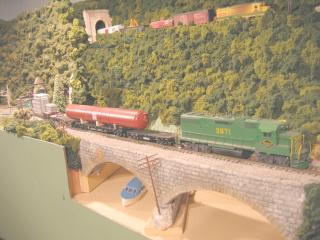 Another unusual run this OS, is Moose Valley train SPL-23 with run through Reading power. Two loads for the power plant at Enid move in this special train. The consist contains a large pressure vessel and high voltage transformer. The Fulton County board of commissioners is glad this shipment could be handled by rail, as this would be a very heavy load for Enid road to bear.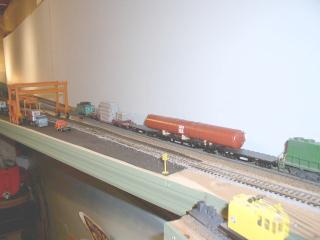 The SPL-23 arrives at Enid without delay.
That's one big transformer!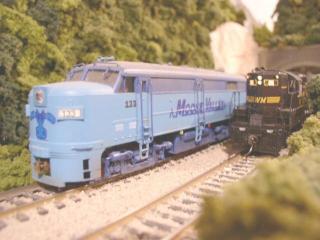 Unfortunately, not all trains are without delay. Here we see BOBU-2 with WM #25 in the lead, passing the first district helper set. This helper crew would report to the dispatcher, that a boxcar in BOBU-2's consist is leaking fluid.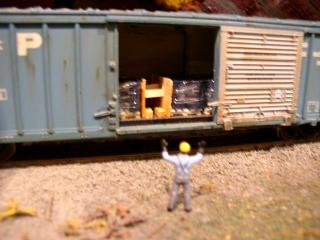 OH Shoot! Are not the words out of this crewman's mouth. Some 55 gallon drums have broken loose and ruptured.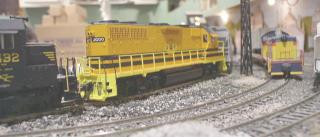 As dusk comes to the Moose Valley, the B&O is busy at Greenspring with foreign power pulling in.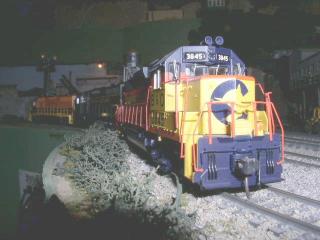 In darkness, the crew of 3845 awaits the mainline signal on the Greenspring yard lead, as another B&O train prepares to roll into the next model railroading season.
Due to the lack of crews, several trains are still stranded in their starting positions without having turned a wheel. Help is needed putting the trains away for the summer, so if you have a spare weekend evening, and would like to run, contact the crew caller!
Thanks to everyone for a great season! Happy summer from the management of the