Operating Session November 6th 1999
November is national Model Railroading Month, and the Moose Valley crew did there best to celebrate.
The last Moose Valley Operating Session in the 20th Century!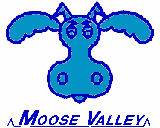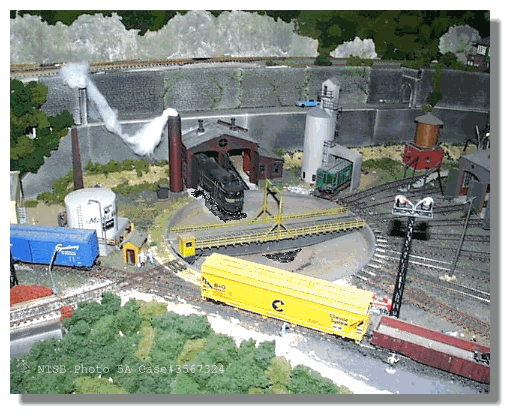 November 6th, saw reactivation of furlowed company staff, and some new bugs to work out. Roundhouse foreman K. Mazer was held responsible for an incident involving Western Maryland FA-2 #304 which inadvertently made it to the turntable pit without coordinated effort. More on this event can be viewed here. Many thanks to the NTSB for the use of their photo.

Additional trackage was opened in New Oxford tunnel. Number 2 track was brought on line, and remoted with CTC per bulletin 19994. A third track was configured for use as the Carlisle yard lead. This switch was manually operated, and required crews to climb to the top of the tunnel to throw the switch.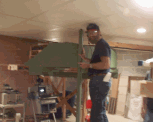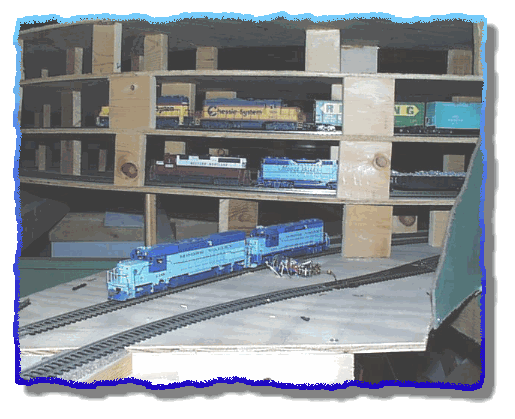 Here we see two northbound trains descending the helix on their way to Millersburg. The Chessie powered train is on the western most track (#2) and the WM lead Moose Valley train is on #1.
Operations went relatively smooth. However, their were exceptions.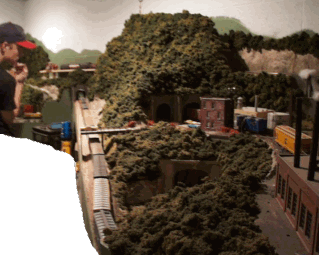 One such example is this train which stalled on Gantz Grade. Here we see engineer M. Adams, biting his nails as he slowly realizes his luck has run out with the two units he was given. This train was power short when it left the yard, and a quick glance at the wheel report told Adams that his chances were slim. Being the experienced hogger he is however, he thought a steady hand and a prayer would take him up the hill. Many a man has died with a fresh prayer echoing in his mind.
Since the YMCA Cafeteria was closed this time, extra personnel were available to handle clerical duties. Here we see dispatcher trainee S. Agne busy controlling the flow of the nations commerce in Berkeley Springs.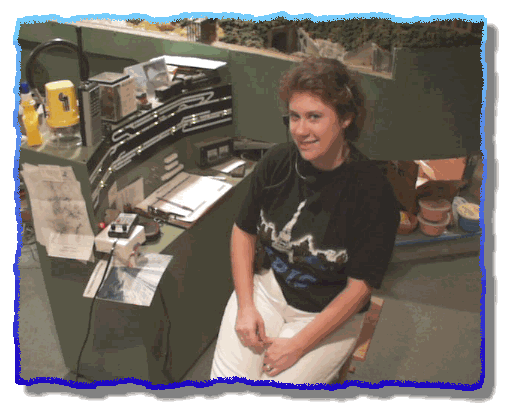 Many many thanks to those loyal employees who make the long trek to the Moose Valley! The 20th century was truly a time of railroad empire building, and they have been as much a part of it as any. The MV is well poised for future growth and success in the new Millennium.