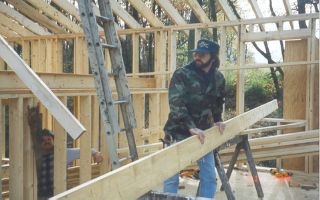 B&B Personnel from the West Virginia district also participated,
which attests to the presence of Carpenter K. Mazer, seen
here in action.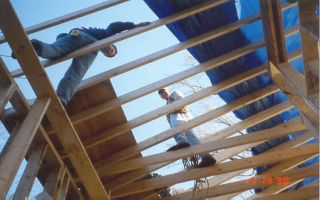 Carpenter D. Klaassen assists with the roof panels,
while B&B Foreman K. Close works the air-nailer.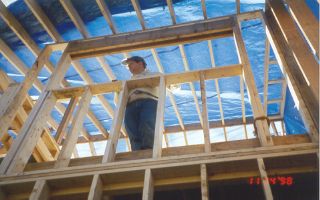 Inspector D. McMahon checks the quality of the
dispatching room's observation deck.
Ever safety conscious, employee M. Agne holds
down the safety line for the men on the roof.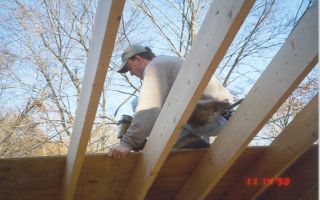 Thwack! Another pneumatic blow sets a nail for
this roof panel.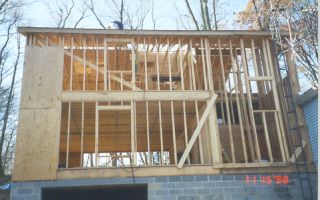 The roof is nearly complete.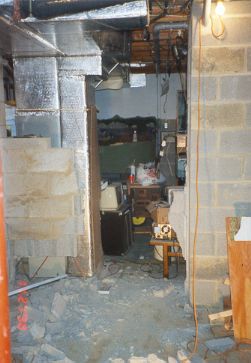 Meanwhile.... on the evening of Thanksgiving day,
a major breakthrough in the basement. The existing
home of the Moose Valley meets it's new territory with
the destruction of the connecting wall.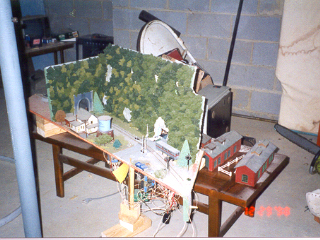 The town of Spruce Hill was removed in one piece
from it's original location under the steps and set aside.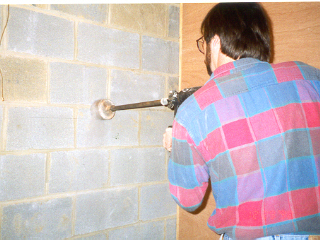 B&B Foreman K. Mazer guides the tunnel boring
apparatus through 24 inches of solid rock.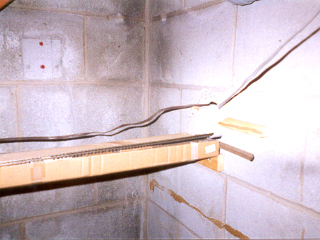 The new "Ady" tunnel is completed. Plastic lined,
and over 250 scale feet long, the 31' diameter bore
cost over $80 to build. Here we see the running track
which replaced the town of Spruce Hill.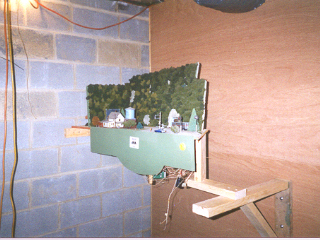 Spruce Hill is then relocated to the new south end
of Ady tunnel.
Meanwhile...
On December 29th, a historic move occurred. The famed
5 level Helix from the Horseshoe Curve layout at
Paul's Model Railroad Shop in New Oxford Pennsylvania
(which had gone out of business Thanksgiving eve of 1997)
was transported in one piece from its birthplace to the
Moose Valley Railroad.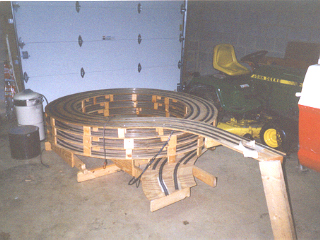 The full size John Deere 318 and 10 foot wide
garage door lend scale to this incredible masterpiece.
The Moose Valley is grateful to the staff of Paul's, and
employee's of Scott Lefever for this magnificent
donation. There is over 240' (1:1) of code 100 track
on the 4 mainline spirals.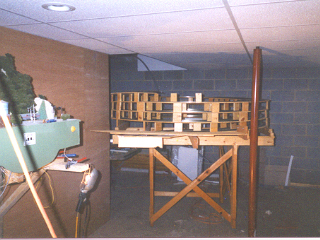 The helix has now been moved into the railroad addition,
under the newly installed drop ceiling.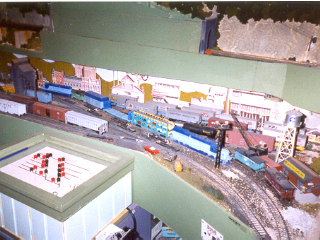 A special test train is assembled in Greenspring for the
run to Spruce Hill. The purpose of the train is to test
tunnel clearances and grades.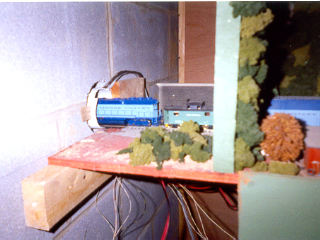 The test goes fine....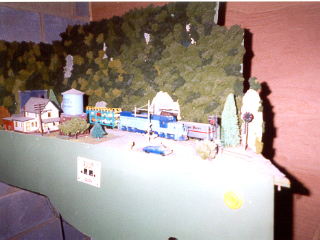 Moose Valley train XSpl-101 comes to the end of the line.
(For now).
Meanwhile, the outside of the lid is finished, and drywall is going up.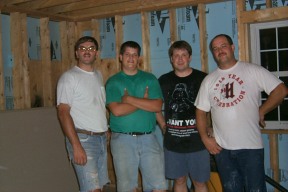 This is the Drywall team.
Last edited 02/25/01