Reading Yard Project, Carlisle Pennsylvania.
November 4, 2001
The Following photos depict the state of construction of the New Moose Valley "Reading Yard", and the Reading Railroad's "Carlisle Yard".
Overall View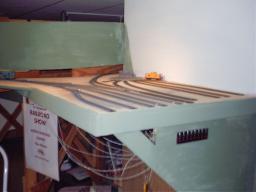 The Yardmasters panel, is visible on this end.
Reading Yard/Carlisle Yard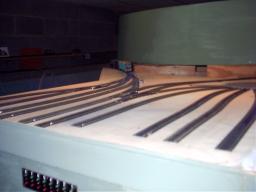 The Moose Valley is on the right, Reading on the left.
The Moose Valley's Turntable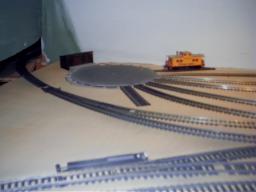 Reading trackage is in the foreground.
The Reading lead and connector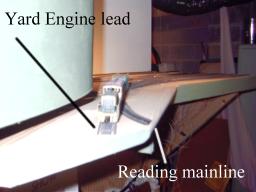 A Reading switcher drills the yard.
The East subdivision on it's way to Reading Yard.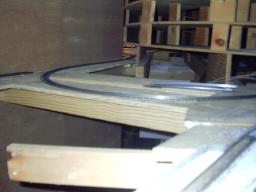 The double track East sub, goes to single at the yard throat
At the present time, all turnouts and turntable wiring are in place, and operational. Scenery and structure installation will be on-going. The Reading Yard engine house has been subcontracted to Mazerk Industries, and the building will be delivered soon. Building flats will be placed along the back wall (near the turntable) to represent downtown Carlisle. A tunnel will be constructed, and the back side of the helix will be a hillside. The yard and East sub are now in their own power district. A capacitor discharge power supply for the yard has yet to be constructed, and Digitrax panels are yet to be installed. Look at this bulletin and see if you can figure out how operations are handled at Carlisle.
Update 11/13/01
Construction is proceeding quickly, with additional structures and scenery beginning to take hold. The photos below show some of the progress. A train has arrived, and the yard is operating.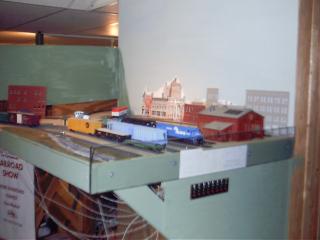 Note downtown Carlisle rising in the background. A Plexiglas end cap has been fitted to facilitate safe operations. Not only for the crews, but for the EPA, so that nothing is damaged as things pass in and out of the utility room.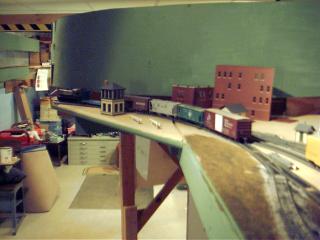 This is the view towards South Carlisle and the Reading mainline. The Reading SW-1500 is drilling the yard.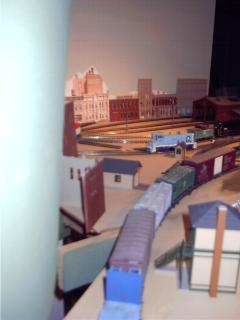 This is the view looking North. The Moose Valley engine facility is in the distance.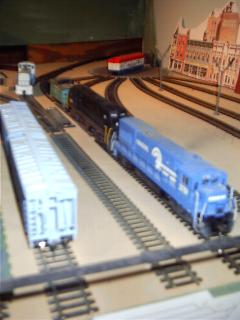 The first equipment to move to Carlisle was Moose Valley SW-1500 #947, with F-7B #131, and the CMX-1 track cleaning car. The second train, and first revenue job was Conrail U-30-B #2751 with 8 cars, a cabin, and a C-425 as the trailing unit.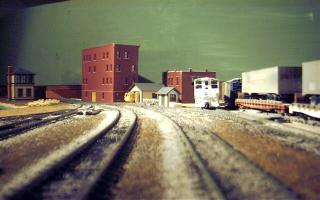 Here is Reading's Carlisle Yard after the first operating session.