Consolidated Power Project, Enid, Pennsylvania.
December 22nd, 2001
The Following photos depict the state of construction of the New Moose Valley McKendree branch, and Consolidated Power's "Enid Yard".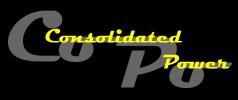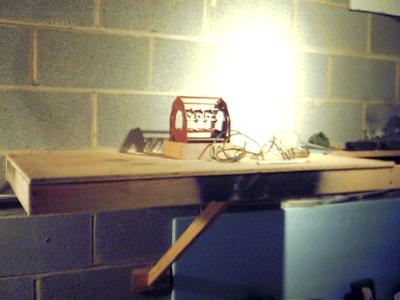 Here we see land acquisition and grading taking place. The rotary dumper has been delivered from Miller Engineering.
January 6th, 2002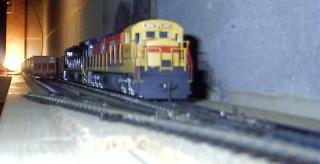 Much of the yard track has been laid. The first test train is ready to leave with empties brought in for engineering tests.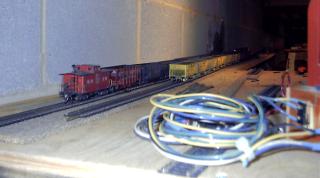 The rear of the empty test train is seen here. Note the loaded test train, and cabling for the rotary dumper.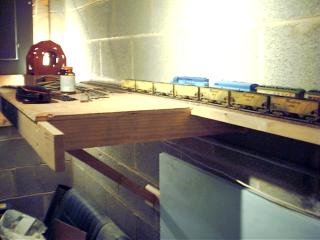 The test train has departed, and the holiday excursion has pulled in for an inspection tour.
Update 2/17/02
The rotary dumper is installed!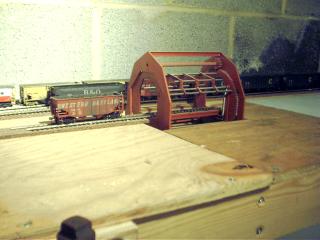 Above, a loaded test car is about to enter the dumper.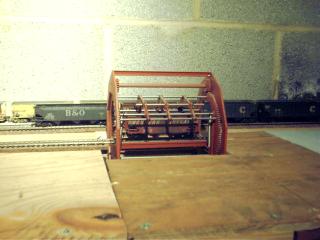 The car is in position, and the operator will now start the machine.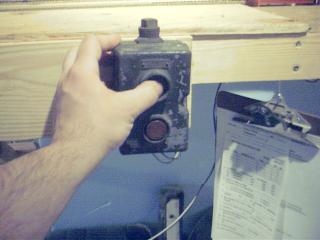 Pressing the start button. This control unit is a Westinghouse Push Button station, from the Western Maryland roundhouse backshop, in Ridgley West Virginia. I don't know what it operated, but many a Western Maryland man had his thumb in this exact same position.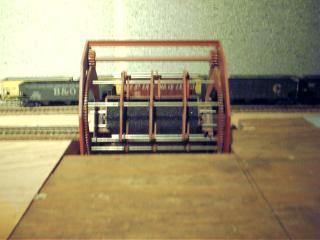 The car rolls over, and the coal flows out over the side in a uniform quantity.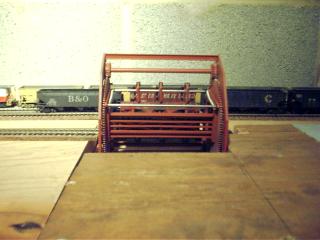 Past upside down, and coming around.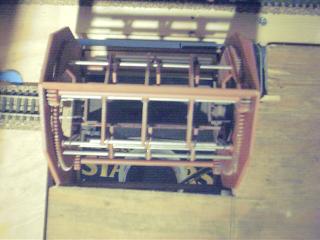 Unloaded, with coal in the bucket below.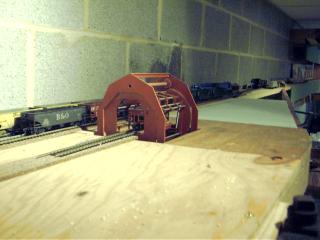 Additional real estate is developing in the area, for more industrial switching.
Update - 3/5/02
Progress has been made on finalization of the Enid track plan, the rotary dumper building, and the repair in place (RIP) track, as well as some ground cover and roads.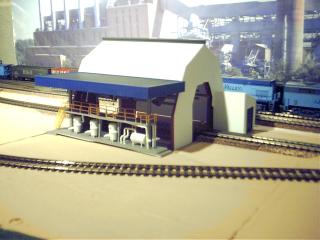 The dumper shell is made from .030 styrene corrugated siding.
The RIP track is in the foreground.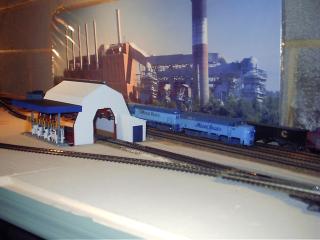 A power plant backdrop provides the mood temporarily, and Alco #133 is back in service.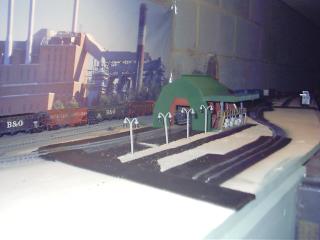 The building is painted, and the roads have gone in.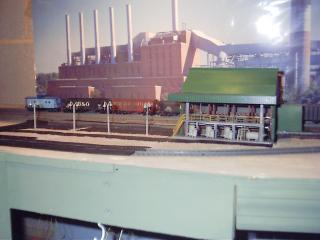 Lighting and details are taking shape. MV-30U sits in the background, and was the first train to be properly loaded and emptied using the automation present on the Moose Valley.
November 23, 2002
Less than one year from the start of construction, this is the state of affairs.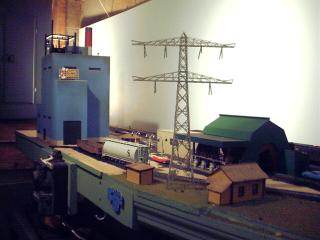 The power plant building was constructed by Ken Mazer, and the thawing shed was built by Chip Syme. Many thanks to both men.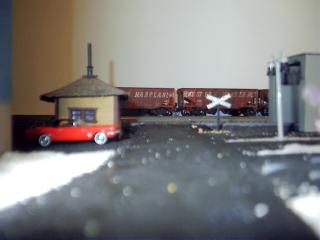 The backdrop power plant formerly located here, has been moved to Millersburg. The guard shack is in place, and the guard is on duty.