Newpass Signal installation, MP 37.9
January 4th, 2004
The Following photos depict the newly installed interlocking at MP 37.9. This new signal bridge supports the south end of the newly designated double track district, and also guards entry to the East Subdivision.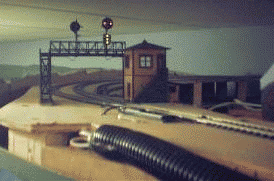 Signal 379N displays the Limited Clear aspect.
The signal for Northbound trains displays 4 aspects. They are:

Limited Clear

Medium Approach
The familiar stop indication, as well as Approach Slow
(A head displays approach, and B head displays approach).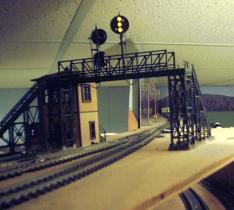 Signal 379S displays a clear indication.
The signal for southbound trains displays the familiar indications, stop, clear, and approach.
This interlocking required a significant investment of time, as their was much wiring to be done in addition to the construction of the structures. Many thanks to Chip Syme, of Syme Engineering for providing the International Signal Systems signal heads. The signal bridge is a slightly modified Model Power kit, as is the tower building which covers the Peco switch motor quite nicely.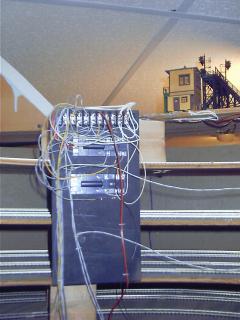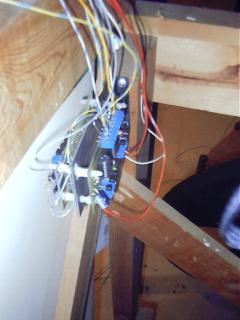 This is the view from within the confines of the helix.
Atlas Snap Switches and Moose Valley Equipment company products were used to animate the signals in the proper operating modes. The Grade Crossing light driver provides the blinking action necessary for the B head signal. Approximately 30 hours went into the construction of this interlocking.
The next project for Newpass, will be to integrate the operation of a 1:1 scale B&O signal head into the interlocking. The signal head shown below will be restored, and put in operation on the floor below the helix. Full scale signal components are being provided by Mazerk industries.