Operating Session February 12th 2000
Even though we're celebrating the new Millennium, on the Moose Valley it's 1976 again!
The first Moose Valley Operating Session in the 21st Century!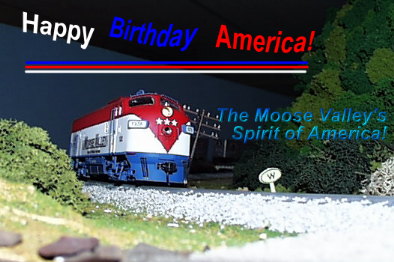 This was the first operating session of the year 2000. To Celebrate the new year, we've reverted to 1976, the last time any particular year had any real meaning.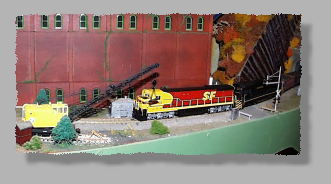 This OS featured some unusual motive power including this brace of U-30-C's from Santa Fe and the Clinchfield.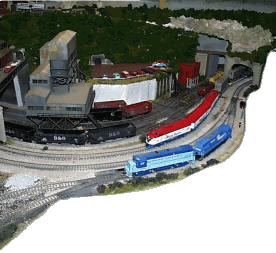 The Weeter Mining Company mine number 2 pauses to watch the new Spirit of 76' units pass.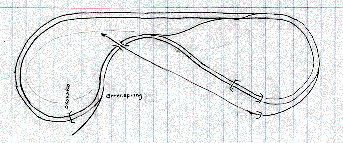 This bizarre drawing was found in the cab of a locomotive at Greenspring Yard. Could it be that some employee is modeling trains at home?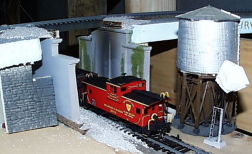 Even the rear of some trains looked different. Here a D&H caboose passes through the construction area at Mary's Cut. This caboose, owned by Millway Western Corporation is on the rear of train MV20-U.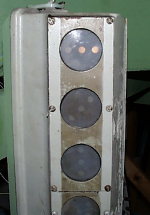 Here is an engineers view of the signal ahead at the North portal of New Oxford tunnel. Looks like he will be stopping on the main.

Rounding Valley Loop.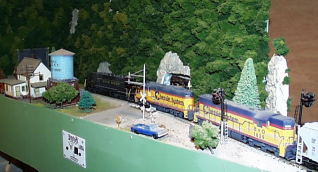 Train MVTX-2 passes through Spruce Hill. Now we can easily see why the WM moved away from that black paint job. SD-35 7435 is barely visible in the lead.


Moose Valley local DMBS-1 drifts past the access road crossing on Valley Loop.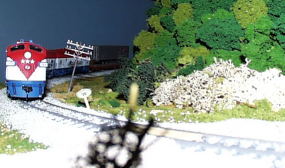 A short time later, the now famous F-3's grind up hill.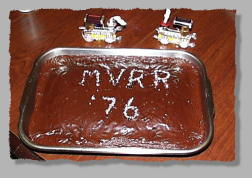 The Moose Valley YMCA served up a delicious dinner, followed by this cake for desert. Everyone got a Choo Choo party favor like those shown here.

Photo by Suzi Agne.
Hay Hay the gang's all here. From Left to right, back row - Cindy Kohl, Mike Kohl, Jeff Adams, Todd Herman, Mel Agne, Grant Becker, Dave Berry, Ken Mazer.
3 in middle row - Scott Ruth, Bill Gingrich, Mike Keiser.
Front Row - Quinn Gingrich, Graham Agne, Matthias Agne, Tyler Mazer, Matt (The Z Man) Adams.
Thanks to everyone for a great OS! Click here for the statistics.