Operating Session February 19th, 2005

The first operating session of 2005 was supposed to be January 22nd, but mother nature put a stop to that with the area's first major winter storm of the year. Not many Moose Valley operating sessions have ever been cancelled, but with 8" coming down the day of the OS, there was nothing the management in Berkeley Springs could do to get the crews to their trains, so this then was the new date. Statistics for this OS were good. Review them here.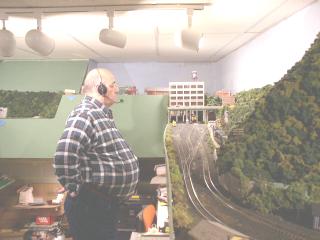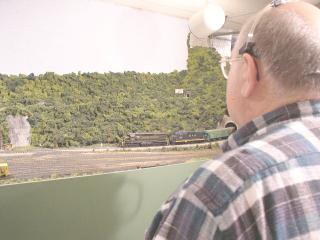 Guest operator for this session is Paul Buscimi, Chairman of the Western Maryland Railway Historical Society model car committee. Several of Paul's model creations call the Moose Valley home. Engineer Buscimi is right at home then, with the throttle of WM 7435 on the point of BOBU-2, the first train off the B&O for the evening.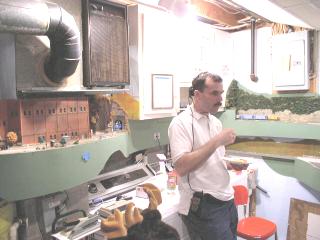 Yardmaster R. Gantz is enjoying a quite hour at the Greenspring Yard facility, thanks to his quick dispatching of outbound trains, as MVRG-32A snakes into New Windsor PA behind him.

His relaxation is due in large part to the pandemonium raining on the mainline. It seems that the United States federal government has created the National Rail Passenger Corporation, now known as Amtrak, and the Moose Valley has bowed to federal pressure to implement passenger service on it's lines. Amtrak has constructed stations at Okonoko on the B&O, and at Enid Pennsylvania on the Moose Valley. Two trains a day between these stations are running, and the effect on mainline freights is obvious.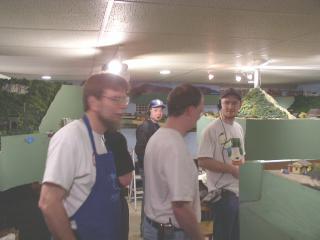 Here, a group of engineers heckle Amtrak engineer N. Murry, as his train commands the mainline. Amtrak was created to relieve the national rail system of unprofitable passenger operations. Strangely, to this date, the federal government still expects it to make money, and threatens it's existence every year. Suffice it to say, the Moose Valley will preserve the memory of the effort, one way or another.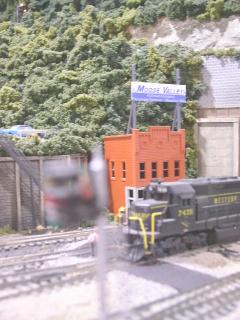 The Moose Valley has constructed two stations for Amtrak's use. The first is at Okonoko on the B&O. The office building of the coal mining road Weeter Mine, has been modified to accept Amtrak patrons on the first floor. The Weeter Mine's crew room and staff have relocated to the second floor, along with the B&O railroad's police department. The new passenger platform and ramps are being used as a crew change point by mainline freights.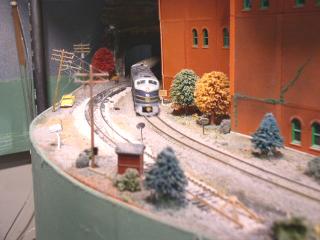 First Amtrak train to cross the Moose Valley!
Amtrak train PA-548 leaves Enid bound for Okonoko at 4:00pm each weekday. Running with whatever the rag tag Amtrak can muster, PA 548 today consists of an aging ex B&O E-8A and one coach, here rounding the curve at New Windsor.
Clockwise from above, Engineer M. Kohl works with DMBS-2 at Enid. WM GP-9 #25 blows for the route 74 grade crossing in Spruce Hill with train MVRG-31. It's trailing unit, about to become a victim of a faulty ground relay. Engineers from 3 trains cuss the omnipotence of PA-549, the 4:10pm train from Okonoko, as engineman Murry inserts himself into the mix. Power this day in Greenspring, is this striking NW-2, still in a vintage B&O scheme, just delivered from Brunswick, Maryland.

Clockwise from above. Engineer M. Adams shares the look of the characters on his South Park shirt, due in part to his successful runaround at HB Yard. Engineer P. Buscimi gives the nod to helper 30B engineer J. Adams as he passes the head end onto the helper siding at Altamont. Since the formal introduction of helper service at the last OS, no incidents involving helper service have occurred. Amtrak train PA-548, this time with a RF&P unit and observation coach, eases to it's station stop at Okonoko. Moose Valley train MV-20U takes a load of coal to Enid around Valley Loop, as engineer J. Adams looks on.

Southbound Moose Valley train MVRG-34 is using run through power this day, with an unusual D&H RS-11 on the point. The power desk at Reading Yard must have been pressed for units, as this train usually has Moose Valley power, and is one of the few trains that do not run elephant style, but rather back to back to facilitate turning at HB.



Here we see MVRG-34 at Cowan.
We will close this view of the February 05' OS, on a humorous note. It seems that the Penn Central is trying to save money on brake shoes. PC FP-7 Number 4333 has gotten away from it's handler, Mr. R. Gantz, and tried to learn to fly. Fortunately for the beleaguered unit, gravity had it's way with her, and she's been grounded without reprieve. The shop crews will have a time getting that unit out of there, but you can be assured, the shortcut to Appalachia will persevere!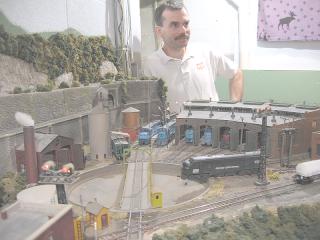 Thanks to all our operators and friends who joined us!