Operating Session November 29th, 2003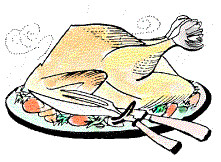 Happy Thanksgiving!
The 2003-2004 winter OS season got off to a start on October 25th, when Steve Stewart of Stewart Hobbies fame, and his friends joined us for a brief run after the Timonium train show. This OS was a continuation of what started that weekend, and was the first full run of the fall. Saturday afternoon was bright, but blustery and cold, making it the perfect weather for some 1/87th scale railroading.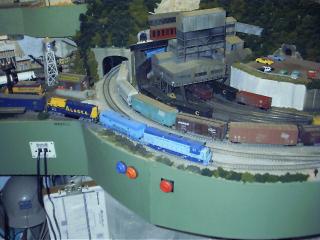 MVRC-10 gets underway out of Greenspring for the run to Carlisle.
This OS would go down in history as a tonnage record breaker, thanks in part to the fantastic 22 car ore train brought into Millersburg by Chip Syme. The ore train, ZBJ-554, rated 4 units, and 8750 tons! A real first on the MV. This train was loaded with live ore, and handled with expert (albeit very slow) care by engineer J. Adams. Unfortunately, everyone was too entranced by this train for anyone to get any pictures, but it did make it over the road successfully. Many thanks to Superintendent Syme from the PC Valley Division for routing the train our way.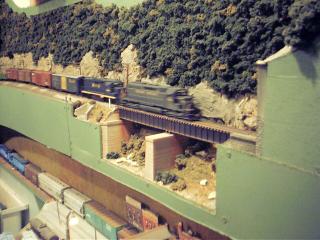 BOBU-1 was one of over a dozen trains that contributed to the high tonnage record.
The tonnage total for this OS was 46,690. Compare to other stats here. New for this OS, was first time visit by engineer trainee Dave Hopson. "Daisy" as he is known on the PC, came to the MV from the Philadelphia Division. Pilot for his train, MVRC-10, was N. Murry. According to fellow MV employee Chip Syme... "Dave runs good, especially when he is late for dinner".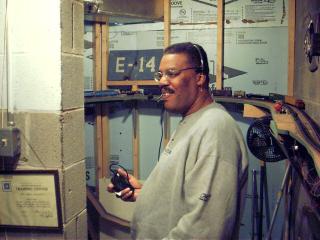 Dave "Daisy" Hopson keeps a close watch over his 3,475 ton train.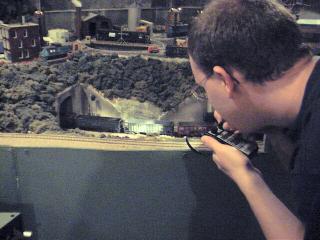 Engineman Murry performs a roll-by inspection at Sleepy Creek.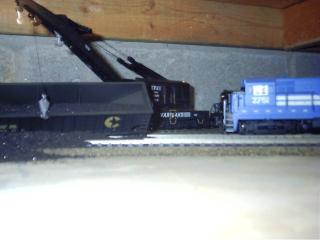 Oops! MV-22U has gone on the ground with a load of coal.
Train MV-20U provided some excitement later in the evening, when a derailment dumped one car load of West Virginia Bituminous on the ground at Sir John's run. Wreck train WOR-201 was dispatched from Berkeley Springs to clean up the wreck. MV-20U's engineer M. Kieser was cleared of any responsibility for the accident. NTSB findings indicated that the problem was caused by a coupler hose clearance issue with the snow plow on the trailing unit.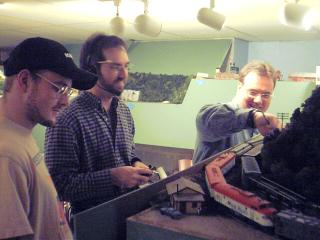 The local, DMBS-01 at HB, with engineer K. Mazer, and Brakeman G. Becker,
is fighting for yard space with MVRG-32 and engineer M. Adams.
The Evening was nearly flawless up unto break time, with the Moose Valley YMCA serving up the usual tasty vitals. Many thanks to cooks Suzi, Laura, and Cindy for all their food, and to Holly for the great waitressing. After dinner things got more interesting, as several engineers found their way through some stop signals.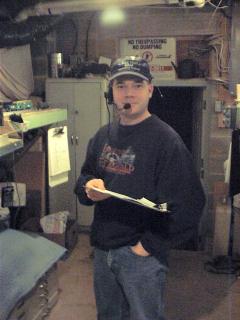 Engineer M. Kohl appears sheepish having
drifted his train through New Oxford, running the switch
that was against him.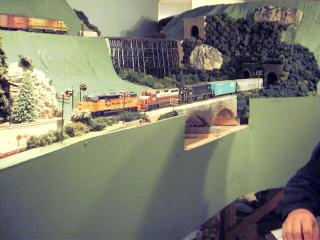 MVC-4 has a colorful lash up today, despite the fact
that it is on the ground! Oops!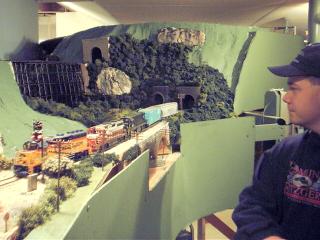 Back on the road again! Literally.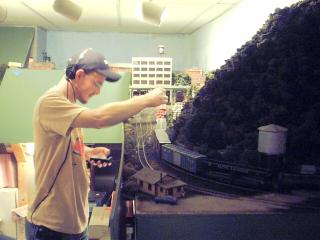 Engineer M. Adams, gets MVRG-32 squared away.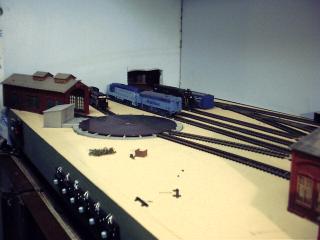 Millersburg's new turntable.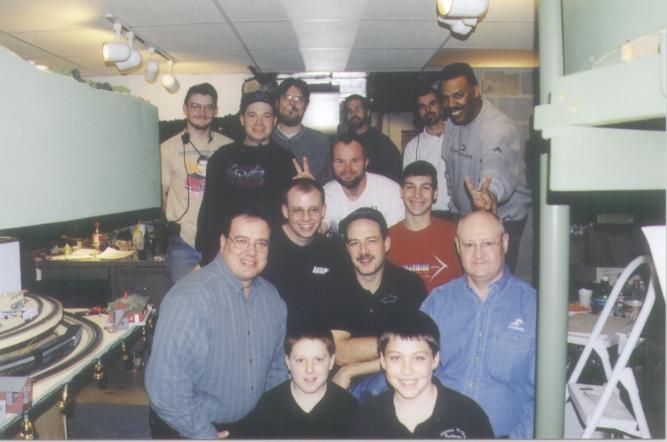 Many thanks to all those who turned out for this OS, and to our visitors from Thomson Inc.
Click Here for our Christmas greetings.
See you all when we are back with another great OS in December!
Thanks to all our operators and friends who joined us!