Operating Session November 20th, 2004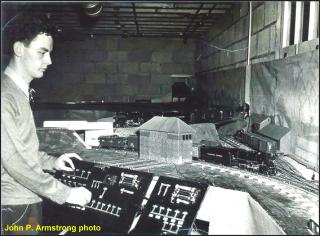 John H. Armstrong
1921-2004
This operating session is dedicated to the memory of model railroading icon, and layout designer extraordinaire, John Armstrong, who passed away this summer at the age of 83. John was the author of many books, but most notably "Track Planning for Realistic Operation", by Kalmbach publishing, now in it's third edition. I referred to this book many times during the construction of the Moose Valley, and consider it the new testament of my model railroading bible. John's innovative and thought provoking ideas will be sorely missed by the model railroading community, and his legend will be an enduring one.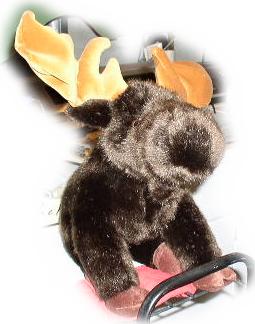 The new company mascot
Unlike the record breaking tonnage OS of one year ago, this beginning of the 2004-2005 model railroading season, got off to a rather laid back start, partially due to a lack of personnel for Greenspring yard. However, the team of B. Gingrich, and Q. Gingrich, did an excellent job of dispatching south bounds from Millersburg yard. Statistics are available here.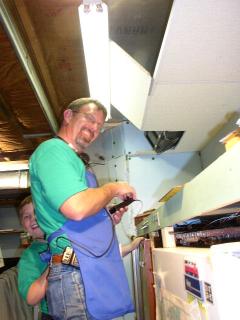 New for this OS, was the operating Circleville Industrial Track, which facilitates the turning of entire trains on the McKendree branch, and the institution of normal helper service over two helper districts with dedicated locomotives. New trackage for this operation includes the siding at Altamont, with operator controlled power routing switches. Extensive rewiring had occurred over the summer maintenance period, which resulted in a lot of non-visible improvements to the layout. Much of that work will continue throughout the winter. Regrettably, this has kept mother nature at bay, resulting in slow tree growth and other ground cover stagnations.

| | | |
| --- | --- | --- |
| | | Moose Valley train MVTX-2 Northbound out of Greenspring, got the OS off to a start led by a solid EMD Moose Valley consist with SD-40-2s 135 in charge. |
Moose Valley train MVC-4 with run through power is the first train to utilize the new helper operations. Here we see the train on the B&O portion of the railroad, with 13 cars and 4599 tons. The district 1 helper, symbol 40B, is a pair of Alco C-425's this day, and makes for an impressive lash up of motive power as it assists MVC-4 from the head end. The helpers will stay on until MP 24.2.
| | |
| --- | --- |
| | |
| MVC-4 engineer K. Mazer watches as helper 40B cuts off at the Rt. 140 grade crossing. | 40B's engines will pull ahead and park on Drumore siding, so MVC-4 can proceed. |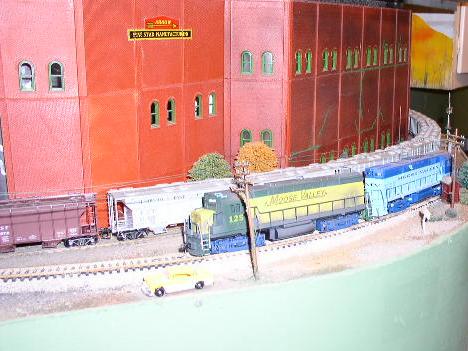 Alco C-425 #125 is a former Chicago and North Western Unit.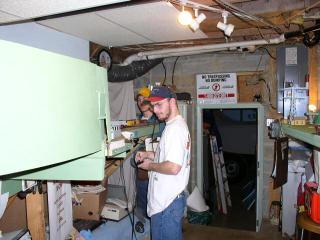 Meanwhile, over in Carlisle, yardmaster M. Adams and assistant terminal superintendent T. Mazer assemble AJ-1.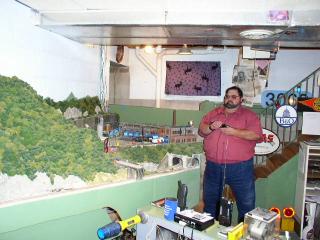 As engineer V. Kiehl skillfully guides MVRG-32 through CP Turn, the crew eagerly awaits the dinner bell, which will ring soon, over at Pine Grove church. The Pine Grove church supper is an annual Thanksgiving tradition, which this night would see an unusually long wait for a table, and stuck vehicles in the muddy parking field. The 2.5 hour dinner break definitely helped contribute to the below normal performance of the railroad this night, but with full bellies and happy times, who is to complain?

| | |
| --- | --- |
| | |
| Engineer J. Adams skillfully applies the first push of helper 30A to the rear of MVC-4 as son Matt looks on. | Power for the 30A today is Moose Valley GP-9 #120 and Moose Equipment Leasing GP-30 #5002. |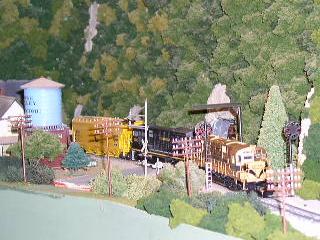 Train MVC-3 is seen here splitting the signals at Summit in the town of Spruce Hill, with new Alco demonstrator power in the lead. The big Century C-628-2 would fail shortly afterwards, and be towed to the National Furniture spur on the McKendree branch for servicing by Alco warranty reps.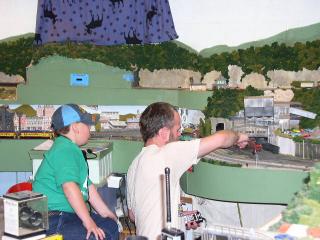 Weeter Mine employee M. Kieser, points out the finer aspects of flood loading at Weeter Mine number 2, to yard clerk Q. Gingrich. Outbound MV-20U will be finished shortly, and another 7700 tons of West Virginia bituminous will be headed for the rotary dumper at the Consolidated Power plant at Enid, Pennsylvania.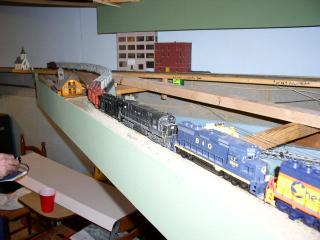 After a mildly successful run, the MVC-4 is used for performance tests on the new Circleville Industrial track. The C-I, as it is being called, will benefit locals on the McKendree branch as well as passenger excursions and other trains needing to be turned for a return route.

| | |
| --- | --- |
| | |
| Moose Valley train AJ-1 drifts downgrade at Valley Loop with a WM GP-40-2 leading. | AJ-1 engineer M. Kohl monitors his trains progress on its way to Greenspring. |
| | |
| --- | --- |
| | |
| | Camaraderie is always a high point of Moose Valley operating sessions, and the faces of our smiling crews tell the tale. Whey else then would we be honored to have with us once again master steam expert M. Manwiller, this time all the way from Utah, who like the prodigal son has returned to his ancestral home, the coal regions of the east. The crews exchange stories and quips as roundhouse foreman J. Adams struggles with the turntable. |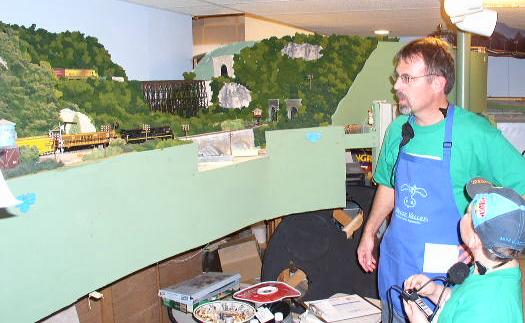 MVC-3 has managed to swap it's power around as it struggles to make time with the disabled Alco. Engineer Q. Gingrich, and Conductor B. Gingrich are closely monitoring the train.

| | |
| --- | --- |
| | |
| AJ-1 trundles down the infamous Gantz grade with dynamic breaks howling. | Snapper engineer M. Manwiller, on 30A prepares to push MV-20U on the first ever coal train shove. With 7700 tons of black diamonds, it will take nerves of steel to ascend the Appalachians. |
| | With reverent determination, head end engineer J. Adams, and M. Manwiller work to manage slack and ascend Valley Loop with MV20-U. |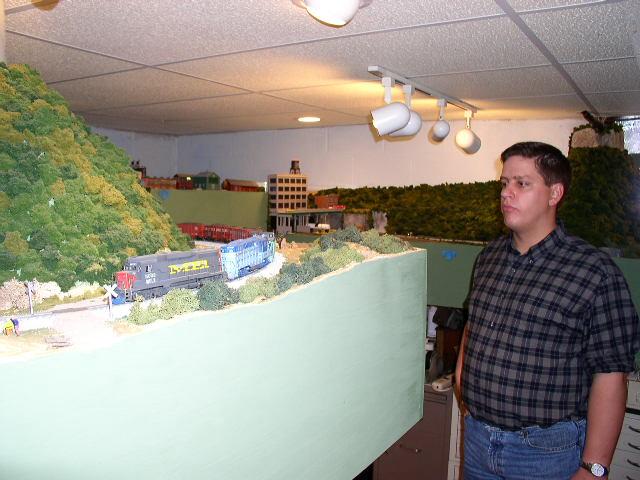 The shove goes without a hitch, and management will struggle to appreciate what the men of the road do from day to day to bring in the revenue, and satisfy customers on the shortcut to Appalachia!
Happy Thanksgiving from the Moose Valley!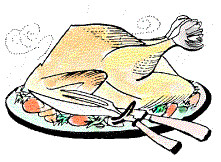 See you all when we are back with another great OS in January!
Thanks to all our operators and friends who joined us, and for traveling long distances to come!