Operating Session December 27th, 2003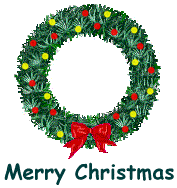 The last OS of 2003 commenced just two days after Christmas, and a festive mood filled the air. 14 Trains moved 44,655 tons for a respectable performance. If not for a delay caused by a mysterious short, we may have set a new tonnage record. Not withstanding, this OS did set new records for number of cars moved and HP used. Click Here for the stats!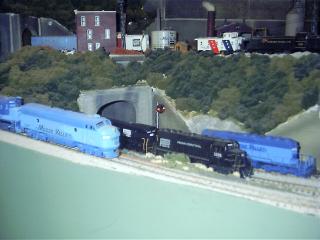 Trains in the Sleepy Creek area
Action was hot and heavy on the B&O Cumberland Sub early in the evening, with a plethora of inbound freights to Greenspring, due in part to an unusually high number of outbounds from Carlisle.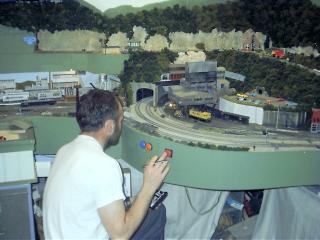 The Weeter Mine #2 loadout was running full bore thanks
to the efforts of M. Kieser.
Speaking of outbounds from Carlisle, RCMV-13 caused some problems at Newpass, when it left the tracks and damaged the newly constructed tower which oversees the western end of the East Subdivision. Fortunately the tower operator escaped unharmed, and the building was set back on its foundation without incident.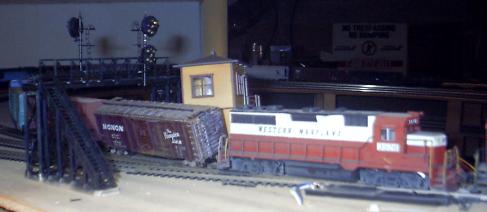 The new tower and signals at Newpass are ill used by RCMV-13 this day.
A new operator for this OS, is Cumberland's own Mike Kubiak. Mike did a great job all night, and was introduced to this, his first operating session, in the company of our mutual friend Mike Manwiller, who also cut his teeth on the Moose Valley. We welcome him to the Moose Valley family.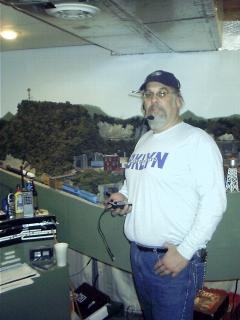 Mike Kubiak with RCMV-11 approaching Hancock.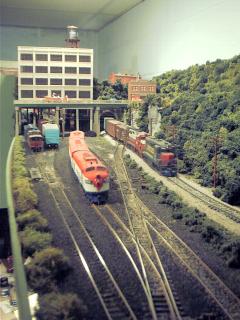 RCMV-13, "The Tower Slayer" passes HB.
Another relative newcomer to the MV is John "JD" Sampson. JD has been filling in for J. Gantz, son of our system Trainmaster, R. Gantz.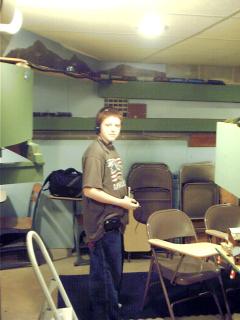 "JD" with MVRG-31 at Altamont.
Coal was certainly king of this OS, with a massive 13 car MV20-U operated by M. Manwiller. Mr. Manwiller also worked a shift at the rotary dumper at the CoPo plant in Enid. The conductor of the first outbound empty unit train, MV22-UE, which left after Mr. Manwiller's shift, left the following report.... "It was bizarre! All, and I mean ALL of the stuff in that caboose was out of place. The coffee pot was on the floor, with coffee all over, the torpedo's and flags were strewn all about. Every bit of paper, waste and anything that wasn't fastened down was dumped on the floor. Even the stuff in the cubbies was dumped out. Tools, everything! You name it. I've never seen a level of vandalism this bad. It's as if those SOB's turned the caboose upside down and shook it." The Moose Valley railroad police are looking into the matter.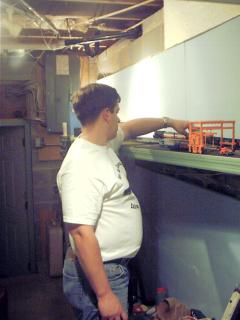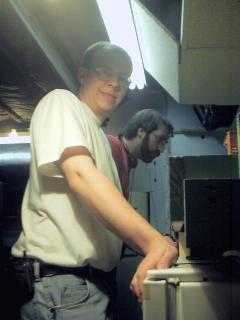 M. Manwiller builds an outbound at Enid, while N. Murry works Millersburg Yard.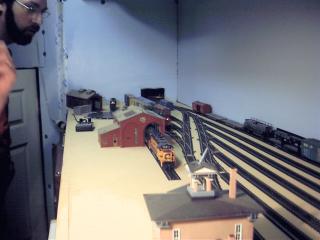 K. Mazer works the engine facility at Millersburg.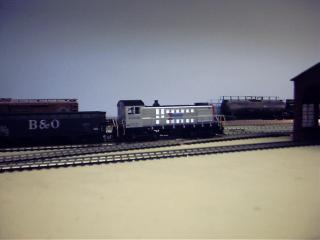 An unusual visitor to Millersburg Yard, is this leased Amtrak Alco.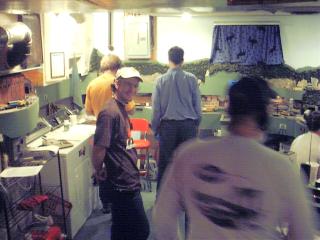 The railroad is alive with action as crew members
work for the efficient and safe flow of the nations commerce.
Yardmaster R. Gantz received a special commendation for his dedication to service. Just in off the road from a long trip from Rochester, NY., Mr. Gantz dove right into action with very little sleep, to find Greenspring Yard awash in congestion and mayhem.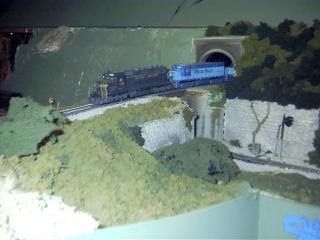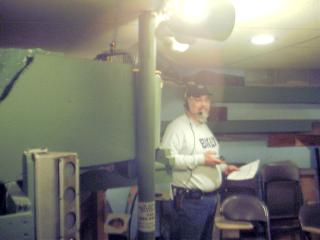 MVRG-31 exits Wachter tunnel, as Mr. Kubiak looks on.

Click Here for our Christmas greetings.
Look for another great OS next quarter.
Thanks to all our operators and friends who joined us!