Operating Session November 19th, 2005.
This OS starts the 2005-2006 season in decent style. A great crew and smooth operating made for a reasonable start to the season. An easy dozen movements filled out the day with respectable tonnage figures. Click Here for the statistics. Speaking of statistics, be sure to check out the updated News section for some interesting facts.
| | |
| --- | --- |
| | |
| Moose Valley train MVRG-32, the Reading Yard turn, rounds Valley Loop as it approaches Slate Hill road. This solid MV lash-up of power would see GP-30 #114 set out later, due to a loading problem. | MV caboose #5 brings up the rear. |
| | |
| --- | --- |
| | |
| | Engineer B. Hess is at the controls of TV-31, with snazzy bicentennial power in the lead. This hot intermodal train is making for Enid in record time. |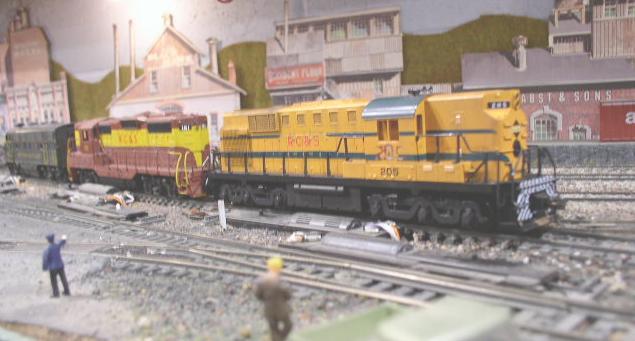 MV-26U prepares to leave Greenspring with 3850 tons bound for Millersburg.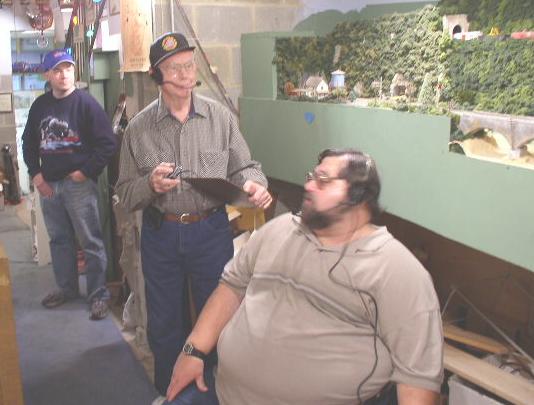 Crew members M. Kohl, B. Hess, and V. Kiehl exchange quips while working the division.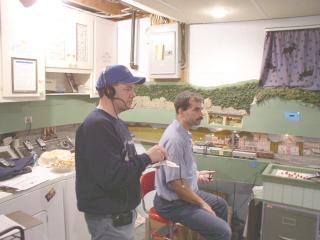 Later, Engineer Kohl operates a train of empties from Enid, as Yardmaster Gantz looks on.
| | |
| --- | --- |
| | |
| | The Consolidated Power plant at Enid, Pennsylvania is reliant on the Moose Valley for its supply of bituminous coal, hewn from the mines of West Virginia and Pennsylvania. Here a load of coal from Weeter Mining's number 2 mine, arrives in Enid, as the CoPo plant switcher works the rotary dumper. Thanks to the recent introduction of Amtrak passenger service, the CoPo crew must pause twice daily, while Amtrak's "Tri-lander" visits Enid Station, adjacent to the plant. A complete re-ballasting of the area was performed when service was inaugurated, thanks to federal funds which included refurbishment of the 40 year old station building.. |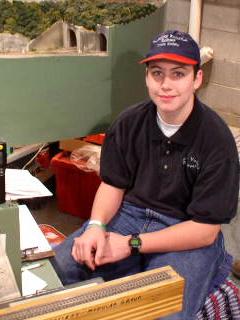 Assistant Dispatcher M. T. Agne performed dispatching duties during second shift.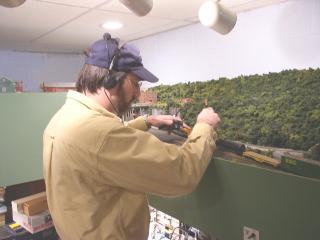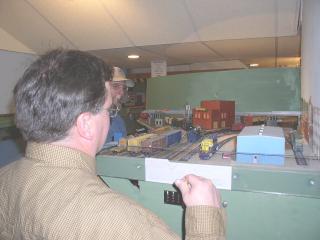 K. Mazer works HB, while at Carlise, G. Becker and J. Adams work the compact terminal.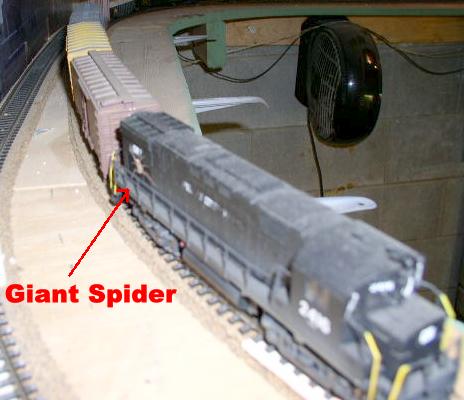 At 22:00 hours, the crew of AJ2 reported a large creature attached to their trailing unit. Moose Valley police were called in, and the subject was identified and asked to vacate the area immediately. Instead, the subject became very aggressive, at one point nearly attacking an officer. A chase ensued, and the individual was killed as he jumped from a bridge near Millersburg.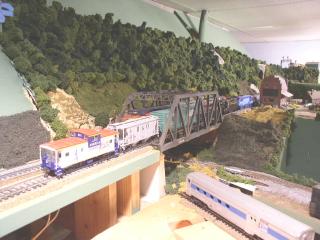 Local DMBS-2 crosses the Circleville branch on it's way back to Greenspring.
Many thanks to all who joined us, and the Pine Grove Presbyterian church for a fine supper! Come back and visit us next year, as the season continues.
Merry Christmas to all!
Click Here for our Christmas greeting.